Current Events
Fundraising for our first refugee family in early 2023
Volunteer Interest Form Pen Pals
Past Events  
Donation of over 50 backpacks, school supplies and money for chrome books to GERA for immigrant children in inner cities in Northern NJ
Initiation of Pen Pal Program with Immigrants in Detention through First Friends in the Summer of 2020
Donation of stationary and writing materials to First Friends for Immigrants in Detention in July 2020
Donation of clothing to shelter for survivors of Human Trafficking in July 2020 
Human Trafficking Presentation:   Sunday, October 13th  at the Wayne Y from 2:30 to 4:00p
NJIC October 13 presentation flyer
First Friends Presentation:  Nov 3 from 2:30-4p at the Wayne Y
NJIC November 3 presentation flyer
Root Causes of Immigration, Sept 2019
ESL one-on-one (volunteers needed)
Thatcher's Dine and Donate: Monday, Nov 12 – Thursday, Nov. 15
Thatcher 3 Location-dine and donate Nov                                                                                                                                                                                                 NJIC  First Annual Dinner Sept. 27, 2018                                                                                                                                                             
Picnic – Sunday August 26, 2018 from 1-4 p.m. at the YMCA, Wayne, NJ
Thursday July 12 – Anthony's Coal Fired Pizza – BOTH LOCATIONS:   1600 Route 23 North Wayne, NJ 07470  and  852 State Rt 3. Clifton, NJ 07012
Thursday August 16 – California Pizza Kitchen:  1400 Willowbrook  Mall,  Wayne New Jersey
Summer 2018 GERA's NJ Rebuild Tutoring
Volunteers assisting with 1-on-1 tutoring of ESL graduates.
Members of NJIC showed support for the fundraising dinner sponsored by GERA on June 4th. IFTAR is the ceremonial evening meal that breaks the Ramadan fast. A goal of the event was to unite interfaith communities' efforts to help refugees attain self-sufficiency.
Monday, 5/7/2018 – Thursday,  5/10/2018:  Thatchers Dine & Donate May 7, 2018
January-May 2018
Adult ESL Training  and  Homework Assistance for Children  –  Location: Wayne YMCA, NJ
Saturdays and Sundays 4-6 p.m.
Wednesdays 6:30-8:30 p.m.
National Volunteer Week 4/15-4/21
Syrian Mother's Day
March 24th (for March 21)
March 2018 Gift Card Drive
February 2018 Clothing Drive and ESL Flea Market
February 2018  Christ Church Episcopal Birthday Party
Christ Church Epicopal B-day party
Sept- December 2017
November Gift Card Drive 2017
 Adult ESL Training  and  Homework Assistance for Children  –   Wayne YMCA, NJ
Graduation from ESL December 2017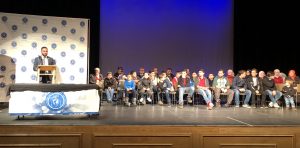 November 2017:
Hats, Scarves, Gloves and  Toy Drive, Wayne, NJ
September 2017:
Movie Screening: "Cries from Syria"  YMCA, Wayne, NJ
August 2017:
Picnic and Backpack Drive, Garret Mountain, Woodland Park, NJ
May 2017: Meet and Greet, YMCA, Wayne, NJ